18 different flavors are available Every Day
Daily Selections Include:
PLAIN

ENERGY BAR

WILDBERRY

CINNAMON RAISIN

MULTI GRAIN

WHOLEWHEAT

MARBLE

PUMPERNICKEL

SPINACH

EGG

FRENCH TOAST

VEGETABLE
SESAME

POPPY

ONION

GARLIC

SALT

EVERYTHING
Each week we feature a different special flavor!
Some of our Weekly Specials Include:
CRANBERRY

ORANGE

CHOCOLATE CHIP

TRAIL MIX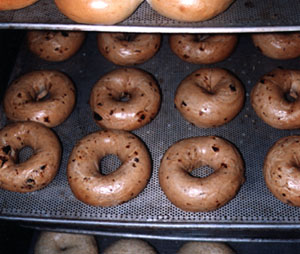 Our Bagels are made from scratch every day, and we use only the richest ingredients.
We use a high gluten spring wheat flour, which is a high yielding flour with the highest percent of protein available.